Last night Highlighter ventured down on a wet and windy night to check bucktoothed bee-boppers 1990s who happened to be supported by one of my favourite Perth bands at the moment, the Dirty Secrets.
I was a tad worried about what the show was going to be like as I had heard that 1990s had put out a bulletin to their myspace friends to message them back to get your name on the door. This was obviously just to fatten the crowd a little as ticket sales had been poor, but much to my surprise the crowd was decent at 8:30 for the start of the Dirty's.
Opening with latest single My Heart is on Fire, these Perth boys were really impressive. Even though the new-wave, synth rock sound isnt new, they do it very well, with vocalist/synther and Napolean Dynamite lookalike Jarrah, having a voice that reminds me of Julian Casablancas mixed with Paul Banks when he goes low... Yeak its good. He's also got some skills playing his keys with one hand holding the mike in the other and singing like a demon which was really impressive. I still think that Five Feet of Snow is their catchiest track but the new single has a definite party vibe about it and will be a sure grower. Here's a couple of their tracks and make sure if you get a chance to go and see them, DO! They are great live and i'm sure their album, due for release very soon will be top notch.
PS This Miami Horror remix is absolutely banging and i've heard on good authority that it will/has been a frequent of Ajax's Parklife sets.
The Dirty Secrets - My Heart Is On Fire
The Dirty Secrets - Five Feet Of Snow (Miami Horror Remix)
1990s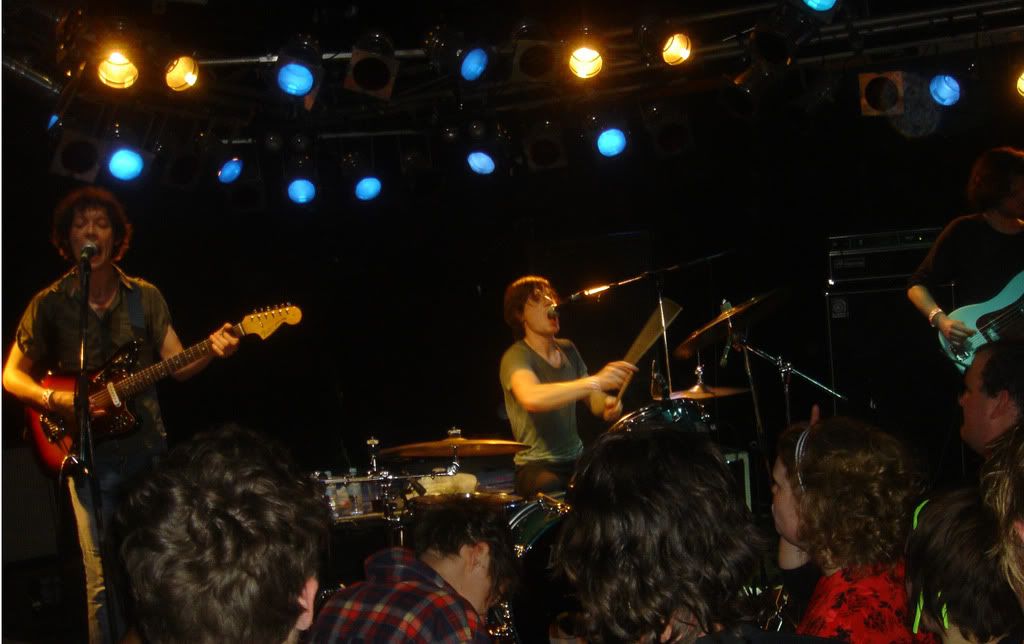 Dirty Secrets were supporting Glaswegians 1990s, to quote their myspace with no "The" and no apostrophe. I really like 1990s first single See You At The Lights, and the music video just sealed the deal.



Yes Jackie's teeth are that bad and yes they sound really good for a three piece, I always have a little bit more respect for a three piece if their sound was as good as the 1990s was. They had a good setup also, you can't really make it out in the photo above but they were all in a line, pinned at the centre by the drumkit. I also am a big fan of the scottish accent, cracks me up everytime. And apologies about the quality of the photo of Jackie below, it sucked to begin with and it still sucks after i've filtered it to death with photoshop.

And lastly to a new section that I will finish each post with, I will post a Golden Oldie track that has at some point in my life done some good, given some inspiration or i've just plain fucking loved it. Its only fitting that the first Golden Oldie will be a gangsta rap song as gangsta was pretty much the type of music that made me fall head over heels for music. NWA were probably the first proper gangsta group and this is my favourite party track of theirs and one of the only songs that Dre MC's on. Love it, hope you do to if you haven't heard it.
Love Yous All