Even though the weather might not indicate so, summer is on the way. This is evident through the mass of festival lineups that will filter through the telegraph poles over the next couple of weeks. A banging Parklife kicked things off soon followed by cracking Falls and Southbound lineups and now we have a brand spanking new electro-festival in the Ministry of Sound Annual All Day Outdoor Festival (phew what a fucking mouthful). It certainly it is a good day to be a sandgroper with Perth taking preference over Melbourne and Brisvegas to get one of the two legs of the tour. With a line up that would perk up any nipple, MOS have given us another outdoor festival as opposed to an All Night Warehouse Party in Sydney (how ridiculously good does that sound) with Armand Van Helden headlining. I think it is sort of like a Day/Night thing from East to West...blah, blah....but it does have an amazingly good line up and so without further ado...





Featuring.....

Sneaky Sound System (DJ/Live)
Midnight Juggernauts (Live)
Fedde Le Grand (Holland)
Booka Shade (Live) (Get Physical, K7 / Berlin)
Trentemoller Live In Concert (Poker Flat)
PNAU (Live)
DJ Medhi (Ed Banger)
Infusion (Live)
Paul Harris
Smokin' Jo
Goodwill
John Course
Riot In Belgium
Hook n Sling
The Aston Shuffle
& More to be announced

Tickets go on sale through Ticketmaster, Moshtix, Inthemix and Live Stores today Friday 28th September. Limited First Release tickets available at $79 + applicable

So get going kids cos these are gonna go like Pete Doherty to a crack pipe.

Summadayze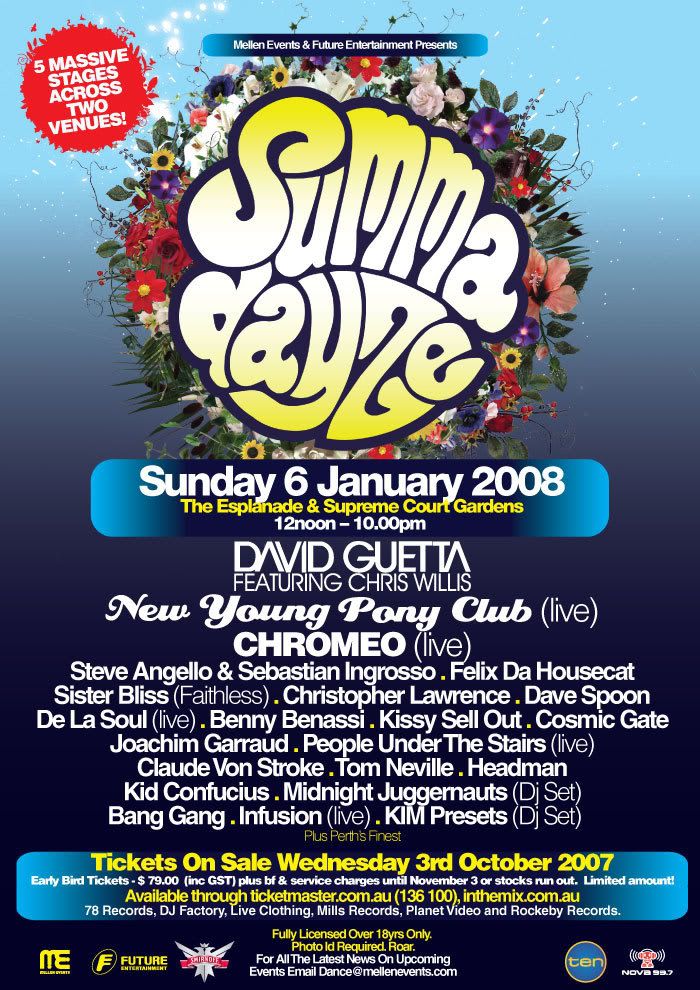 There is no doubting the quality of the Ministry lineup, but if one observes closely, you will observe that it does have a lack of variety. Not to blame MOS for it as techno, house, breaks etc is what they do. But for a true smorgasboard of electronic delights, Summadayze has well and truly delivered. From hip-hop to house, breaks, indie, funk and of course some banging electro, mark Sunday January 6 down in your diaries boys and girls cos Perth esplanade and Supreme Court Gardens are going to explode. I've never really been a huge fan of Summadayze as I always was Good Vibrations boy, but drop my dacks and call me charlie, Future Entertainment have done a stirling job with this year.
David Guetta feat Chris Willis
New Young Pony Club
Chromeo
Steve Angello & Sebastian Ingrosso
Felix Da Housecat
Christopher Lawrence
Sister Bliss (Faithless
Dave Spoon
De La Soul
Benny Benassi
Kissy Sell Out
Cosmic Gate
Joachim Garraud
People Under The Stairs
Claude Von Stroke
Tom Neville
Headman
Kid Confucius
Midnight Juggernauts
Bang Gang
Infusion
KIM (Presets)

New Yound Pony Club, Chromeo, De La Soul, Benny Benassi, Kissy Sell Out, People Under The Stairs, Von Stroke, Infusion.....SHIT!!!
To put it lightly I am very, VERY excited about summer and heading to Sydney for NYE and Shore Thing (Groove Armada) and Field Music (I can't do another rundown I need to sleep).
Ok quick festival count Parklife(Monday!, there's a couple of bad clashes too, not cool), Ministy AADOF, Nevereverland, Shore Thing, Field Day, Summadayze...Holey moley it's on!